Dawsons Conquered #Snowdon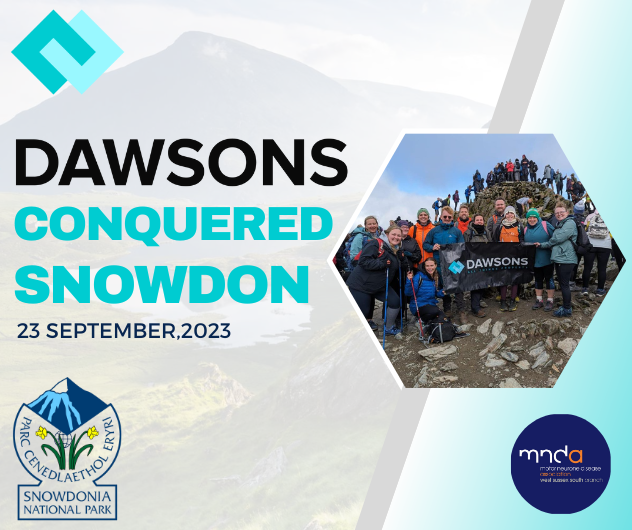 Each year the team at Dawsons Estate Agents, Swansea take part in a challenging physical fundraising campaign in aid of raising funds and awareness for a charity close to their hearts.
The 2023 Dawsons annual fundraiser was decided as always amongst the team of colleagues who chose to climb the tallest mountain in Wales, Snowdon. With all members giving their charity suggestion, these were then put in a pot where the company's senior partner Chris Hope picked the 2023 charity out as Motor Neurone Disease Association (MNDA).
After watching his grandfather suffer with the disease, MNDA was nominated by Matt Jones the Gorseinon Sales branch manager, a charity close to his heart.
With over 5000 UK adults suffering from Motor Neurone Disease (MND), Dawsons are proud to be able to support such a worthy charity.

On Friday 22nd September, Dawsons Team Snowdon embarked on their journey to Snowdonia with their lettings Director Ricky Purdy at the helm of the bus that was hired from the Glamorgan Scouts and funded by an Agents Giving Grant.
The Team stayed in the Red Dragon Holiday cabins for the duration of their visit which is perfectly located within minutes of several Snowdon paths.
On the morning of Saturday 23rd September, team Snowdon split into two groups at the base, feeling a wave of excitement and nervousness as they began their adventure up the Snowdon Ranger and Rhyd-Ddu paths.

There were mixed feelings at the pub afterwards, with some smiles and discussions on their collective accomplishment on the team raising to date, over £4000 for MNDA.

What will be the next #TeamDawsons 2024 challenge?