Due to the Covid 19 pandemic we have moved our current Auction properties to an established and secure online auction platform using the latest real time bidding technology. Should any property be of particular interest, or you should wish to bid, please notify our Auction department at your earliest opportunity so they are able to advise you of when the bidding opens and ends so that you do not miss out. You will also find this information on our web-site where you are able to register your interest for free by clicking on the individual property of interest 'watch this lot'. Should you be considering selling even in these unprecedented times please call us for expert advice or any help needed on 01792 478903/904 or email auction@dawsonsproperty.co.uk
Sellers Guide
At Dawsons, we understand one of the toughest decisions when selling your home is determining the most appropriate method of sale to maximise your return, fit with your timescales as speed may well be the determining factor, together with having a committed buyer.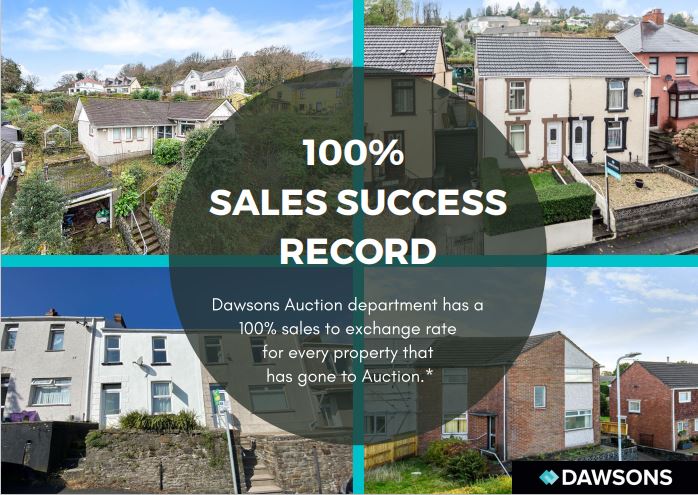 What we do
We sell residential properties, land, development plots, inherited estates, family homes, commercial properties, building plots, garages, portfolio properties and flats/apartments. With auction we see no negatives when it comes to a selling a property i.e. work needed, knotweed, structural problems etc. It is a successful method of sale for properties that need specialist attention. Nothing is too testing for us! In fact, we sold 100% of all our auction lots that went to our online auction platform from 2020 – 2022.*

Security
Sold means sold. Selling your home at Auction is easy and you have the assurance of a committed buyer and legal exchange of contracts. An auction purchaser must exchange contracts immediately after a sale is agreed putting down a 10% deposit of the agreed sale price. They then have 28 days to complete the transaction.

Speed
The timescale for selling at Auction is normally 6-10 weeks, from booking your property into Auction until completion of sale. Of course, that can be flexible depending on your requirements. Your buyer works to our timescales. Sell within a matter of weeks, with the benefit of competitive & transparent bidding – Multiple bidders compete to buy your property at Auction and the sale is final.

Stress-Free
The benefit of selling at auction is that no additional home improvements are necessary. The property is ultimately sold as seen and can be emptied at your leisure knowing there will be an additional 28 days between exchange and completion. Once the legal pack is complete, we as a team will contact all the interested purchasers to determine the level of interest. The Online Auction date will then be set providing there is enough interest for bidding to commence, or alternatively a pre-auction offer could be accepted before the Auction, under the same auction exchange conditions.

Our team
Our dedicated Auction Team offers a vast amount of knowledge, excellent customer service tailored to meet your needs and expectations and cover all areas from Port Talbot to Carmarthen.
Give our auction department a call or email to book a FREE valuation or please call if you would like any additional information regarding the Auction process.

Call Us on 01792 478903 | Call Us on 01792 478904 | Email Us
Prefer to chat in-person? Visit our Auction Department at 11 Walter Road, Swansea SA1 5NF

*Dawsons Auction exchanges between March 2020 - Jan 2022.