Relocation
Wouldn't it be great to have a friend already living in the area you are moving to? ...
... Someone who could provide trusted advice on the up and coming areas, school catchments, local shops and restaurants or real world commuting.
Dawsons have been helping people move home for over 30 years and are proud to be the only independent agent selected to represent Relocation Agent Network in Swansea and Llanelli, working together to deliver expert advice with a personal touch to those relocating in or out of the area.

We are extremely proud to announce at the Relocation Agent Network Awards in November 2023, Dawsons were once again awarded with the Best in Region award for the South Wales region, and also achieved the Community Champion Award 2023. This accolade speaks volumes for the part we play in our branch communities alongside the wider national network working together at the heart of the business to not only assist our clients in All Things Property but in All Things Community and Charity too. Read more on these awards HERE.
Dawsons were also previously crowned the Best Agent in the South West Wales region in 2022. You can read more on this HERE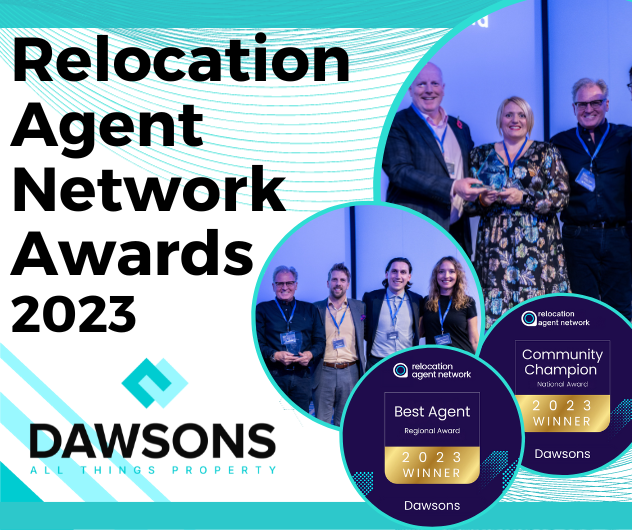 Relocation Agent Network have member agencies throughout the whole of the UK, so whether you are moving to Scotland or moving from England we can help you. It costs you nothing and is a standard part of the enhanced service offered by Dawsons, your local Relocation Agent Network Specialist.
We also have a page on our website (Your Area), which is dedicated to providing you with some LOCAL area insights which could assist when looking to relocate here, take a look at the information HERE.
We are delighted to confirm our affiliation with Oakleigh House, the only independent primary school in Swansea. Oakleigh House Independent School started in 1919 and celebrated their 100th anniversary in 2019. In 2007 Oakleigh joined the Cognita group of Schools, a global schools group with 68 schools across 3 continents.

Oakleigh House pride themselves on offering their pupils the very best start in life. They are able to provide an all-round education of the highest quality that challenges and engages their children. The school teaches children from 21/2 to 11 years and is situated in the Uplands area of the City, the birth place of Dylan Thomas. Please visit their website www.oakleighhouseschool.co.uk
Dawsons, are the only agent in Swansea to have relocation specialists working out of all branches, being the chosen agent to work with Relocation Agent Network, with a UK network of some 700 offices, hence this makes for a great partnership, helping those clients looking to relocate and move their children into Swansea's only independent school.
Vikki Napier - Admissions and Marketing Registrar
Email: Vikki.Napier@oakleighhouseschool.co.uk