Dawsons announce working collaboration with Owens Group 'Celtic Removals'
Some of the best ideas are born over a 'coffee chat' …. this collaboration is no different and Dawsons have forged a link with one of the UK's leading family-owned Transport, Warehousing and Distribution companies, Owens Group.

Owens Group began their journey in Llanelli over 50 years ago as a removal company, expanding to becoming the nationwide brand as it is known today.

Having recently decided to re-establish and get back to their roots of helping people move, only this time not just around South Wales but all across the UK. Celtic Removals now offer the local personal service that Owens Group has always done, but now with the added bonus of the experience of a national award winning and trusted brand.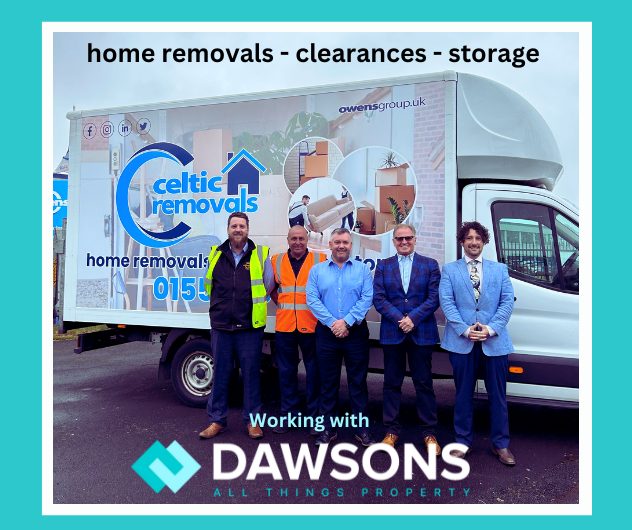 With Dawsons being selected as a 'relocation specialist' HERE in Swansea and Llanelli, it seemed only fitting to join forces to be able to provide our clients the benefits that the Owens Group can provide. Both Chris (Dawsons Senior Partner) and Ian (Owens Group Managing Director) were pleasantly surprised to find the similarities that align both businesses, whilst both LOCAL they are well connected throughout the UK and therefore able to offer a knowledgeable service to their clients alike.
Dawsons are the market leading agents for sales and lettings and will offer this removal, storage and clearance support to all buyers, sellers, landlords and occupiers.
Contact your local Dawsons branch to discuss your removal, storage, and clearance needs, you can find our branch information HERE

Follow what Dawsons are doing to support local businesses, communities and charities by following on Social media:
You can also follow Celtic Removals social media:
Instagram: @celticremovals
Facebook: Celtic Removals