Horse riding in Swansea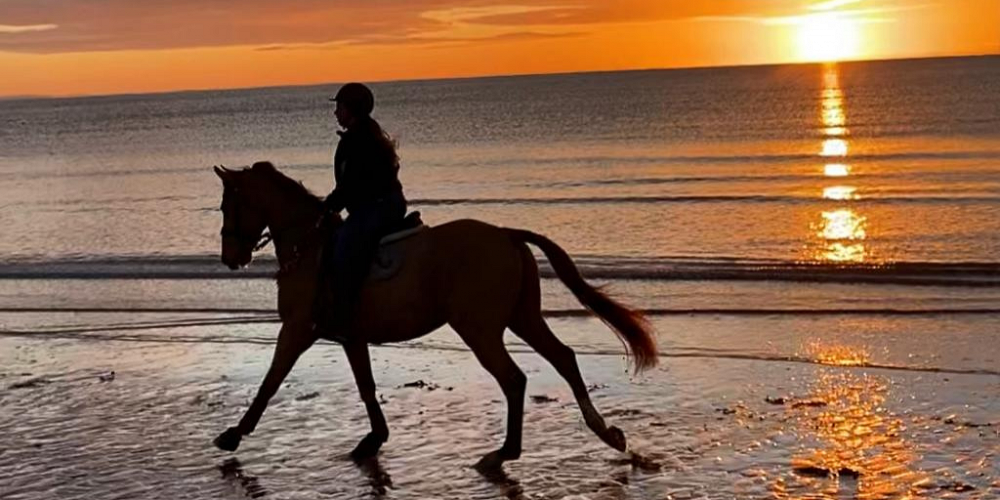 According to Rightmove, 51% of property enquiries from Londoners, are for homes which are outside the capital, compared to 42% in April last year. In Edinburgh 60% of applicants plan to leave city life behind them which is an increase of 7%, and in Birmingham half of people enquiring are looking to spread their wings and move further afield, a 5% increase from last year.
A significant proportion of these people are taking the opportunities presented by remote working,
Is that you? Maybe you've been thinking about reconnecting with a childhood hobby like horse riding but aren't too sure where to start. Or maybe you're looking to relocate with your 4-legged galloping friend to a dream life by the coast - we can help with that.
We've had a chat with Aimee, Lindsey, Ashley, and David – all members of the Dawsons Team who love their horses, so the following recommendations are tried and tested by local people.

Riding clubs and groups
If you're looking for ways to make friends and socialise, joining a local group is a great way to meet new people that share your passion while improving your skills and entering competitions.
Gower Riding Club
The Gower Riding Club is the oldest civilian riding club in mainland United Kingdom, having started in 1936. Even if you're not looking to ride, they're always appreciative of offers of help when it comes to running their events.
Give them a like on Facebook or visit their website.

Swansea & District Pony Club
For young people who love ponies and riding, membership of The Pony Club is a fun way to make friends, train, and take part in events and competitions while being part of the largest association of riders in the world!
Like their Facebook page, or visit their website.
Show jumping arenas for hire
With Covid restrictions easing, most places are beginning to open with some restrictions in place – so it's definitely worth getting in touch with them to check before paying any of the businesses mentioned in this blog a visit.

Oaktree Equestrian, Neath
Oaktree Farm was established in 1989 and is a family-run yard with all year-round grazing, large stables, fantastic hacking routes, and state of the art facilities including their 20x40 flood lit sand arena and jumps. It's easy to get to, situated just off of the M4 corridor near Swansea, and they have lots of parking.
Like their Facebook page, or visit their website.
Ponderosa Equestrian Centre, Newport
Ponderosa Equestrian Centre is a British Horse Society (BHS) approved riding school, show centre and livery yard. Boasting 100 acres of glorious countryside, if it's rural life and freedom you're looking for, it's a lovely place to learn to ride, brush up on your skills, or pursue medals.
Like their Facebook page, or visit their website.


David Broome Event Centre, Nr Chepstow, Monmouthshire
With a friendly atmosphere and gorgeous setting, riders of all levels are welcome to enjoy the world class facilities which include two all weather arenas, tracks around the site, and five outdoor arenas.
Like their Facebook page, or visit their website.


Silverstone Equestrian, Carmarthen
Silverstone Equestrian is a brand new, top quality livery yard with Monarch stables and an indoor school which they hire out to the public.
Give them a like on Facebook here.


Beacons Equestrian, Ammanford
Beacons Equestrian is a show and training venue with top of the range Martin Collins surfaces and a wide range of facilities including overnight and day stabling, a heated viewing area, an Olympic sized dressage arena and much more.
Like their Facebook page, or visit their website.


Ynysymond Equestrian Centre, Glais
With great shows and a tack shop, Ynysymond Equestrian Centre is a livery training and competition yard based in Swansea Valley.
Like their Facebook page, or visit their website.

Shows and competitions
With so many shows both near and far beginning to go ahead with Covid safety measures in place, it's well worth checking the BSJA website for their show calendar to see what's on and where.
Equestrian stores local to Swansea


Zoar's Ark Pet Superstore, Neath
Zoar's Ark deliver in the local area, and have a great equestrian range – as well as everything you need for other pets, too.
Give their Facebook page a like, or visit their website.

Gowerton Country Stores
Gowerton Country Stores also sell a small number of equestrian items.
You can visit their website here.

Places to go horse riding local to Swansea
David Parton, Dawsons branch manager for Killay's very favourite place to go riding is Three Cliffs Bay, but loves riding across South Gower. Mainly Pennard, Southgate, Pwll Du and Caswell.
Client Relationship Executive, Lindsey Harrison also loves Three Cliffs, as well as Cefn Bryn and Glais Mountain – amazing scenery for horse riding.
Ashley Thomas likes going for local rides in Oxwitch Bay, Horton, or Cwn Ivy – and Ashley actually competes all over the country, so she knows her stuff!
Office Manager Aimee Sturgess loves Llangennith and Rhossili in particular for riding.
As you can see, we're basically spoilt for choice locally when it comes to gorgeous scenery, there's so much of it to take advantage of – and taking it in on horseback makes it even more special.
Stables local to Swansea
There are a lot of very good privately owned livery yards throughout the Gower, here are a few of our riders' picks.
Bevexe Fach Farm

This is a family-run yard which provides horses with high quality grazing and stabling. There's also easy access to bridle ways, moorland and woodlands for beautiful rides.
Have a look at their Facebook page for photos.

Cefn Gorwydd Farm
Cefynn Gorwydd Farm is a small and friendly yard with fantastic livery facilities for your horse or pony.
Visit their Facebook page to see what they get up to on the farm, or visit their website.

Blacklands Livery, Welshmoor, Gower
Offering DIY, part and full livery as well as grass and retirement livery, Blacklands Livery is another compact and friendly yard that you and your horse will both love.
Give them a like on Facebook.
Sycamore Lodge Livery
A small, family run yard in the Heart of Gower alongside a 60 acre working farm offering all livery options.
You can find them on Facebook here.
RELATED PROPERTY YOU MIGHT LIKE
Five Furlongs, Ilston, Swansea
How about your very own stables? Positioned within the gorgeous Gower village of Ilston, is this rare and exciting property which not only has bags of indoor room for humans, it also boasts two double garages and a block of 3 stables positioned within 4.25 acres of grounds and a paddock.