Dawsons and the Llangennith beach lifeguards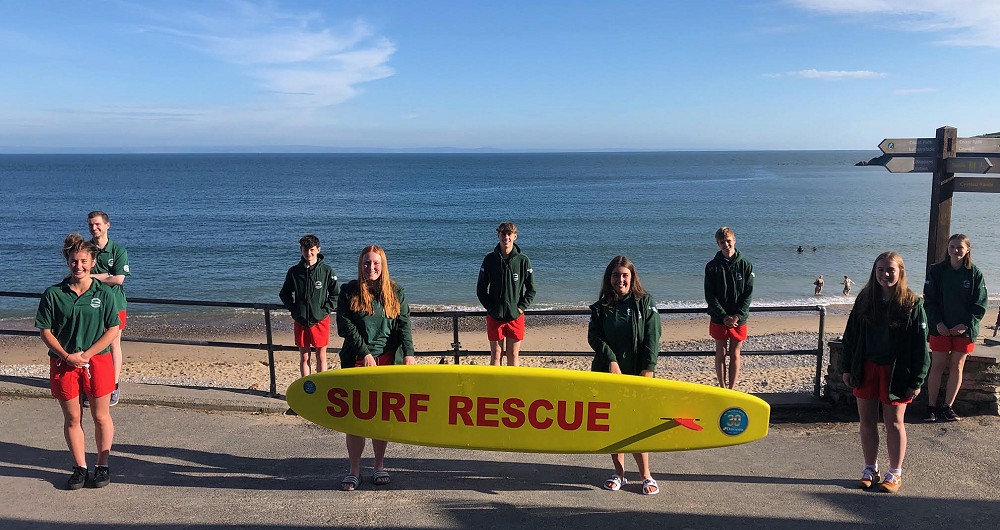 In March we were contacted by Andrew Parkinson from the Langland Bay Lifeguard Club asking if we would be interested in sponsoring them and we JUMPED at the chance to be their official sponsor.
The Langland Bay Lifeguard Club is run entirely by its members, who are all volunteers and receive no payment for the work they do! The club, primarily, provides aquatic based lifesaving and first aid training to its members across a range of ages from 7yrs to 60+. In addition, they provide opportunities for members to compete against other 'Surf Lifesaving Clubs' in order to hone their skills, build on their fitness levels, and have fun! The Langland Bay Lifeguard Club is split into 4 sections – the Nippers, Juniors, Seniors and Masters. Club activities take place at Langland Bay in the summer months (from the start of May to end of September) and at a local swimming pool in the winter months (September to end of April).
Charity Registration No. 1087775
So, we were very interested in this proposal for a few reasons:
1. At the start of the 2020 Summer season, there were several incidents involving persons in difficulty in the sea at Llangennith. In response to this problem, the Club agreed to provide limited patrols on weekends in July and August and we always aim to keep our neighbourhoods safe, so helping with the cost of supplying this invaluable service, goes perfectly with our Dawsons tagline "Safe as houses".
2. Last year, a total of 51 hours of volunteer patrols at Llangennith resulted in 33 rescues, 4 of which were considered as 'lives saved'. That is such an amazing feat for these wonderful volunteers, and we are delighted to be able to assist with ensuring the same levels of safety for 2021.

Becoming a lifeguard

A beach lifeguard's duties include:
First response in emergency situations
Giving general beach related and safety advice
Helping to find lost children or adults
General supervision of the beach
Patrolling bathing areas
Advising on dog bylaws
If you are interested in becoming a lifeguard then check out: Lifeguard training: https://www.swansea.gov.uk/watersafety


Llangennith beach: Also known as: Llangenydd/Llangynydd
A lovely family friendly, sandy beach, which makes up the Northern half of the stretch from Rhossili is Llangennith Sands. The beach is backed by extensive sand dunes giving it an attractive 'wild' feel. The scenery along this stretch of coast is world class; from here you can look south, towards Worm's Head and northwards to Burry Holmes. This is the most westerly part of the Gower Peninsula and as a result picks up most of the Atlantic swells that have made the area renowned for surfing. Llangennith is the go to spot for surfers along this coast and often has a surfable wave when other spots are flat. It is also a great spot for beginners as the beach slopes quite gently (as do the waves!). Check out: https://www.llangennithsurfschool.com/
During the Spring low tides the engines of the paddle-steamer City of Bristol become exposed. She was wrecked here in the winter of 1840 with the loss of 29 lives.

Amenities on the beach
Llangennith beach is dog-friendly all year around, family-friendly and great for water sports.
There is a moderate amount of walking required from the car park (approx. 200m).
The distance between car park and beach may include difficult or rough terrain.
There are toilets in the car park or nearby.
Refreshments are available, but a moderate amount of walking is required (approx. 200m).
The distance between refreshments and beach may include difficult or rough terrain.

Beach Safety
Always go to a beach patrolled by lifeguards
Make sure you read any warning notices
Bathe in between the red and yellow flags - this area is patrolled by lifeguards
Never enter the water if the red flag is flying - red means danger!
Ask a lifeguard about conditions if you are unsure whether to bathe
Don't swim alone
No inflatables - they easily get swept out to sea by wind or current
Be careful when playing in rock pools - the rocks can be very slippery

Beach Flags
Look out for the following flags on the beach which will tell you where it's safe to swim and where not to swim:
Red and yellow flags: The area between these two flags will be patrolled by lifeguards. These are the safe areas to swim, bodyboard and use inflatables.
Black and white chequered flags: The area between these two flags will be patrolled by lifeguards but are for use of watercraft such as surfboards and kayaks. Never swim or bodyboard in these areas.
Red flags: These flags indicate danger. DO NOT enter the water under any circumstances if you see red flags flying.
Orange windsocks: These windsocks will tell you what the offshore wind conditions are. NEVER use an inflatable when the windsock is flying.
Praise for Llangennith